Bitters-Whisky Cocktails 6 Pack (50mL)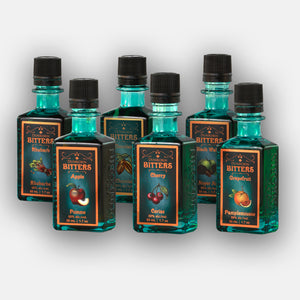 For those who love to explore, we've put together a wide selection of our favourite bitters that blend perfectly with our Canadian Whisky. Every flavour provides the ability to create multiple cocktails, enhance desserts and even add a twist to your next cup of tea. Welcome to the world of all-natural bitters.
*Please note we may change the flavours in this kit from time to time due to the seasonal ingredients used in some of our bitters. The list below will always provide the exact bitters you will receive and thoroughly enjoy.
Apple:
Dunrobin Apple bitters offer the crisp tart notes of orchard-fresh green apples and warm baking spices. This innovative bitter made from a blend of sweet and woody botanicals can also be used to enhance classic whisky, gin, and vodka cocktails. 

It can also be used to add aroma and extra flavour in desserts, herbal teas or sparkling water. An exotic touch to your pie crusts and apple pie fillings or to your vinaigrettes for salads such as apple, blue cheese and toasted walnut salad.
Orange:
Fresh and clean, sun-kissed and perfectly ripe. Only the best peels are acceptable for this orange awakening. Hints of juniper help give this orange a more complex artisanal structure. Enjoy with a Rye, Gin or Vodka and let your senses be taken over tonight. Ingredients: Alcohol, water, orange, spices, honey.
Cherry:

The hint of smoked spice and tart sweetness in this bitter will be enjoyed by Manhattan drinkers. It is macerated in a particularly small batch process so that the complex flavours blend properly. Popular uses are in any dark spirit such as bourbon, rum or brandy and a must-have for whisky drinkers. Other uses - add a few dashes to flavour water or use cherry bitters to bake cakes with.
Rhubarb:
Tart and tangy with homegrown and humble roots. This unique twist will become your dirty little secret when hosting your next party. Enhance a whiskey sour or a new twist on Gin and tonic. Rhubarb bitters is a bartender's new best friend.
Chocolate:
Mixologists looking to add a subtle enhancement to their drinks should consider chocolate bitters. The dominant ingredient is cacao that has been sourced from a small family plantation in Central America spanning four generations. This is a complex bitter with notes of chocolate, cinnamon and other spices. Enjoy with premium tequilas, bourbon, brandy or use to make a vodka chocolate martini. Add a few dashes on ice cream for a decadent dessert. Use this bitter sparingly as the taste can be strong.
Black Walnut:
For something completely different try our award-winning Black Walnut bitters. A complex tasting experience with earthy, root notes. This bitter offers a distinctive medley that is both smooth yet strong. It can liven up scotch, rum, and dark sodas and even replace nutmeg in baked goods. It is pleasantly intense that is a nice garnish on egg white cocktails. Consider using a dash in your omelets or a couple of dashes in your coffee as well.