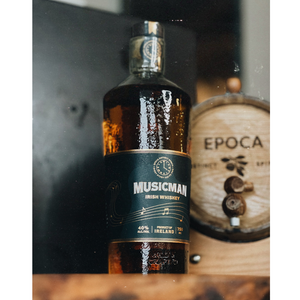 Created in the timeless tradition of a true Irish Whiskey, crafted using pure spring water, maize and Irish malted barley. Distilled to near perfection in bourbon barrels then beautifully balanced by sherry casks.

Musicman is a symphony of smooth flavour, gentle notes of vanilla and butterscotch with a hint of smokiness on the finish.
In memory of a young musician's life and the music he loved, Musicman is our tribute to music and life. A Soulful companion to sip, savour and share.
Musicman Irish Whiskey by Epoca Distinct Spirits is bottled by Dunrobin Distilleries.