4-Pack - Grapefruit & Gin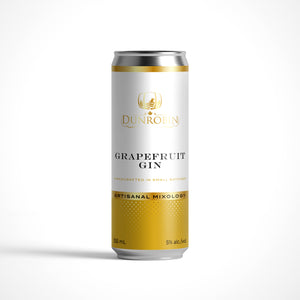 Crafted with meticulous care and an unwavering commitment to quality, our Artisanal Gin takes center stage in this exquisite cocktail. Renowned for its exceptional craftsmanship, this gin is a testament to the masterful art of distillation. Its expertly curated blend of botanicals yields a nuanced, aromatic profile, where vibrant juniper berries and carefully selected herbs and spices intertwine, creating a symphony of flavour.
The vibrant grapefruit adds a burst of zest and vibrancy to this non-carbonated creation. The natural tanginess of the grapefruit complements the botanical complexity of the Artisanal Gin, resulting in a perfectly balanced and refreshing elixir. As you indulge in each sip, the interplay of flavours unfolds, offering a tantalizing dance between the botanical elegance of the gin and the invigorating citrus notes of grapefruit.
Designed for those who appreciate the finer things in life, our ready-to-drink cocktail offers a seamless blend of convenience and sophistication. Whether you're unwinding after a long day, socializing with friends, or simply seeking a moment of indulgence, this non-carbonated gem provides a hassle-free way to enjoy the complexities of an expertly crafted cocktail.
Includes:

4 x 355mL Cans
A $0.10 recycling deposit per can is included in the final price.