4-Pack - Ginger Lime Vodka Soda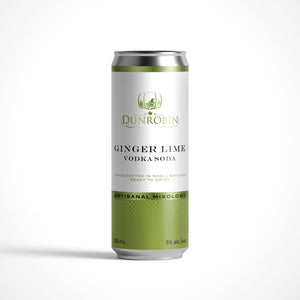 At the core of this cocktail lies our award-winning Artisanal Vodka, crafted with precision and an unwavering commitment to excellence. Distilled to perfection, it embodies the essence of sophistication, offering a velvety smoothness that is the hallmark of premium spirits. Each sip delights the palate with its refined character and impeccable craftsmanship.
The addition of ginger adds a captivating twist to this ready-to-drink cocktail. Its warming and aromatic qualities impart a subtle yet distinct spiciness that complements the smoothness of the Vodka, creating a harmonious interplay of flavours. As the ginger gently tingles on your taste buds, it imparts a comforting warmth that elevates the cocktail to new heights.
To brighten the palate and add a vibrant citrusy kick, we infuse the cocktail with the tangy essence of lime. The zesty lime cuts through the richness of the Vodka and ginger, offering a burst of refreshing acidity that invigorates the senses. With every sip, the bright and uplifting notes of lime transport you to a world of revitalizing enjoyment.
Includes:

4 x 355mL Cans
A $0.10 recycling deposit per can is included in the final price.