Beaver's Dram - Premium Canadian Rye - Port Wood Finish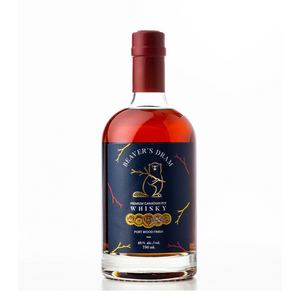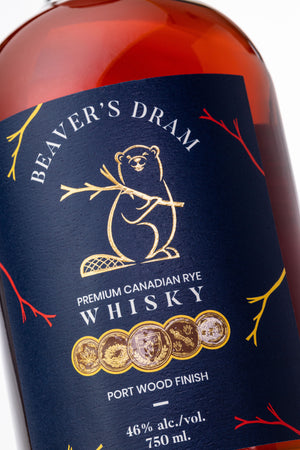 Overview
"Less Bite, More Flavour" was the goal when producing this elegant premium Canadian Rye Whisky, that we developed in partnership with Seven Seals Innovation (Our Swiss sister distillery). It has exceeded all our expectations with an incredibly smooth texture that wraps around the luxurious Port flavour, lingering long enough for you to miss it once it's gone.

It takes a lot of hard work, craftsmanship and innovation to make something truly special and who knows that better than the Canadian beaver? This is why it's the Beaver's Dram.
Tasting Notes
Your journey starts with a sweet nose of walnut and nougat, then a hint of pepper.  You then taste notes of smoked hickory that effortlessly offset the sweetness of the caramel, vanilla and candied oranges. The finish is a delicate balance of wood smoke and Port.
Aromas: orange, nougat, walnut, white pepper, charcoal
Taste: hickory, mint, candied oranges, ginger.
Finish: vanilla, melted caramel, wood smoke, Port


750mL - 46% alc./vol.